According to the GOP, being young is now a crime—at least, that's the case if you're Sasha or Malia Obama. In another case of gender and race discrimination, and a healthy dose of hypocrisy, conservatives viscously attacked one of Obama's daughters for having the audacity to go to a rock concert and kiss a boy. MTO News was particularly angry at the location:
During Barack Obama's presidency, the two girls were attacked often. In 2014, former GOP staffer Elizabeth Lauten wrote in a Facebook post:
"Dear Sasha and Malia, I get you're both in those awful teen years, but you're part of the First Family, try showing a little class. Act like being in the White House matters to you. Dress like you deserve respect, not a spot at a bar. And certainly don't make faces during televised, public events."
What kind of outfits and "faces" made Lauten so upset?
Their "behavior" isn't as shocking or crazy as right-wing outlets suggest. It's certainly not as "raunchy" as the Bush daughters, who were often photographed behaving much more like the "party girls" than the Obama girls are accused of being: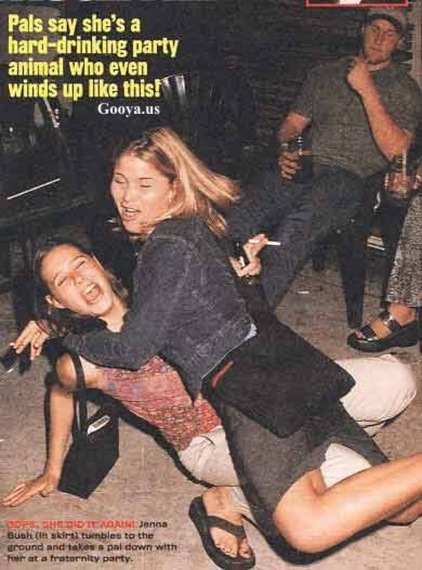 Yet when Sasha wears a perfectly normal bikini to a beach, she gets the headline "Sasha Obama Shows Off Her Curves In A Skimpy Bikini In Miami," and even worse commentary:
In the picture, she's wearing an American flag bikini. If Ivanka wore the same one, she'd be called "patriotic."